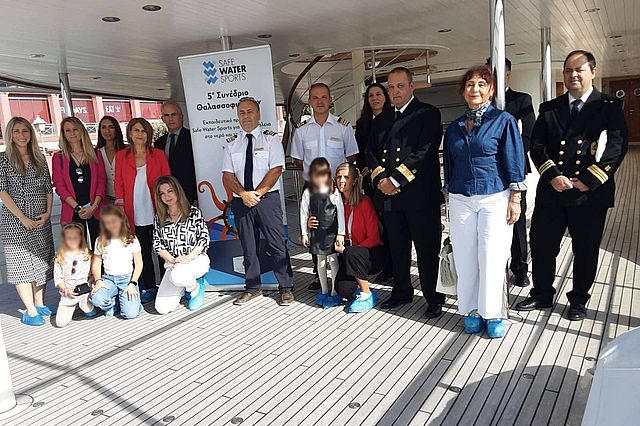 5th Interschool Conference 2023
On Friday, October 20th, the 5th Conference of Musqueteers of Safe Water Sports was held at the Neraida Floating Museum in Floisvos Marina.
During the conference, that was organized with the support of the John S. Latsis Public Benefit Foundation, one school of each Prefecture in Greece and one school in Cyprus, that completed the water-safety online educational program of Safe Water Sports, ware awarded.At the same time, awards were given in collaboration with the Hellenic Coast Guard regarding the students who participated and stood out in the National Painting Competition with the theme "Rules for Safety at Sea and the Beach."

The schools that stood out regarding the educational program of SWS for 2022-2023 are:

Prefecture of Attica:
• 2nd primary school of Poros -Trasani Vasiliki
Prefecture of North Aegean
• 2nd Primary School of Vrontados, Chios - Nikos Fafalios
Prefecture of Eastern Macedonia and Thrace:
• Kindergarten of Avatos - Karantoni Panagiota
Prefecture of Epirus:
• Primary School of Koutseliou-Diakopoulou, Theodora & Vinis, Ioannis
Prefecture of Central Macedonia:
• 3rd Primary School of Evkarpias - Afentoulidou, Panagiota & Karanisas, Giorgos
• Thessaloniki Model School - Tseliou, Stella
Prefecture of Crete:
• 1st Primary School of Gazio, Heraklion - Tzampouraki, Emanuela
Prefecture of Thessaly:
• 1st Primary School of Nea Ionia, Volos - Papathanasiou Andromachi
• 1st Special Primary School of Volos - Mansour Ali
• Terpsithea Primary School, Larissa - Karanika Christina
Prefecture of Western Greece:
• 12th primary school of Patra-Bartzakli Marianna
Prefecture of Peloponnese:
• Primary School of Velos, Corinthia - Kellari Athanasia
• Primary School of Feneos, Corinthia - Teligiannidou Iliana
• Primary School of Kallianon, Corinthia - Teligiannidou Iliana
Prefecture of Western Macedonia:
• 7th Primary School of Ptolemaida - Vakadaris Ioannis
• Primary School of Pyrgos, Florina - Magkou Anastasia, Christos Kalafatis, and Melisidis Konstantinos
Cyprus: 3rd Primary School of Idalio
Click here to watch the video regarding the educational content of the schools.
The goal of the ceremony was to award the schools that completed the program successfully and to transform them into representatives of the program in order to ''transmit'' their experiences and pass their knowledge to other schools of the same Prefecture.
Click here to watch the videos of the award ceremony.
So far, Safe Water Sports Organization has educated-informed more than 300,000 students through the educational program.
Sponsors for the Panhellenic Student Paint Competition: Arena, Playmobil
Founding donour of the educational program: Stavros Niarchos Foundation