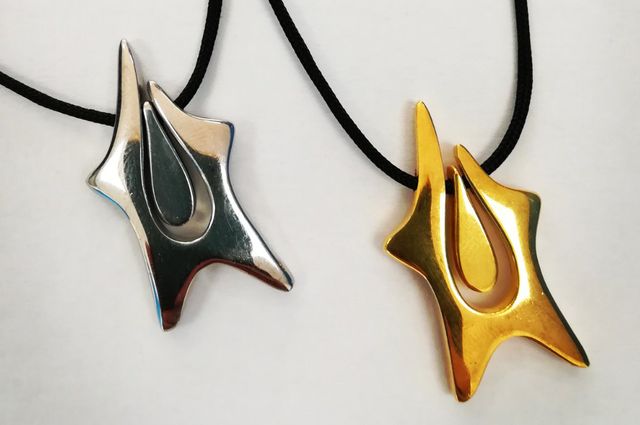 ''Safeguard Star'' Lucky Charm
Water drops of love with the luckycharm "Safeguard Star" by Safe Water Sports. Let's make 2021 a special year by choosing to buy for ourselves or someone special the "Safeguard Star", a unique jewelry-symbol made for a good cause.
With each purchase you support the expansion of Safe Water Sports educational program for water safety in High-Schools. Our goal is this program to be taught as an integral part of curriculum to high-schools, the way it was tought to primary schools too.
The pendant, designed by Katerina Psoma, consists of a star that embraces the water drop, symbolizes hope, strength and longevity.
You can find it in:
brass (25 €)
silver (50 €)
14K gold (450 €)
and you can choose your favourite color in cord necklace: either red, black or blue.
Show your love in an effort to support Safe Water Sports in order to protect human life and help us to contribute in a way to reduce any future accidents in the aquatic environment.
This year, more than ever, we need you to support our actions and the educational program of the Organization that educates more than 40,000 students annually.
Contact info for your requirements: 2108029428
The deposit can be made in the following account. We kindly ask you to send us you receipt at: This email address is being protected from spambots. You need JavaScript enabled to view it.
EUROBANK ERGASIAS ΑΕ
ΔΙΚΑΙΟΥΧΟΣ : ΕΛΛΗΝΙΚΗ ΕΤΑΙΡΕΙΑ ΠΡΟΩΘΗΣΗΣ ΤΗΣ ΑΣΦΑΛΕΙΑΣ ΤΩΝ ΑΘΛΗΜΑΤΩΝ ΚΑΙ ΜΕΣΩΝ ΑΝΑΨΥΧΗΣ ΣΤΗΝ ΘΑΛΑΣΣΑ ΚΑΙ ΣΤΟ ΝΕΡΟ
ΛΟΓ/ΜΟΣ : 0026.0374.71.0200429341
IBAN : GR2202603740000710200429341