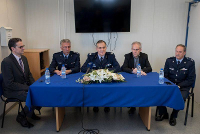 Memorandum Sign between Safe Water Sports and Cyprus Police
On Wednesday, February 21, 2018 at 12.30 pm, the sign of the Cooperation Memorandum was accomplished between the Cyprus Police and Safe Water Sports at the Offices of the Port and Maritime Police Administration in Limassol.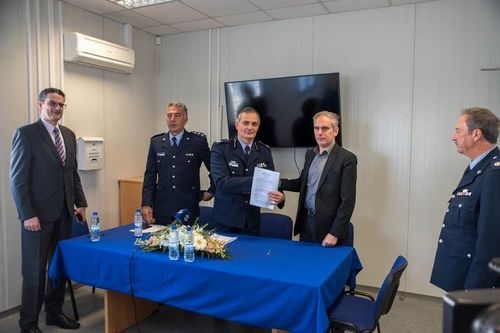 The Memorandum was signed by the Assistant Head of Support, Andreas Koussioumis and the President of the Non-Governmental Organization "Safe Water Sports", Mr. Panagiotis Paschalakis, in the presence of the Commander of the Port and Maritime Police, Senior Police Officer, Ioannis Georgiou and the Deputy Governors of the Port and Maritime Police.
The non-governmental organization "Safe Water Sports" is based in Greece and cooperates with various Mediterranean European countries. Among others, its core activities include the strengthening of the state's work in the field of policy, law enforcement and generally the supervision exercised by the Coast Guard on offshore activities, the information and public awareness of issues related to activities performed at sea, with a greater emphasis on compliance with the safety guidelines and accidents' prevention via an online platform but also through actions that are presented on both media and social media.
The sign of the Memorandum will contribute to the effort that is currently made for greater security at sea, since all citizens will familiarize and have the possibility to know the beaches that provide various services, the prevailing weather conditions and the existence of lifeguards and their schedule, through a simple form of electronic application that will be provided free of charge.