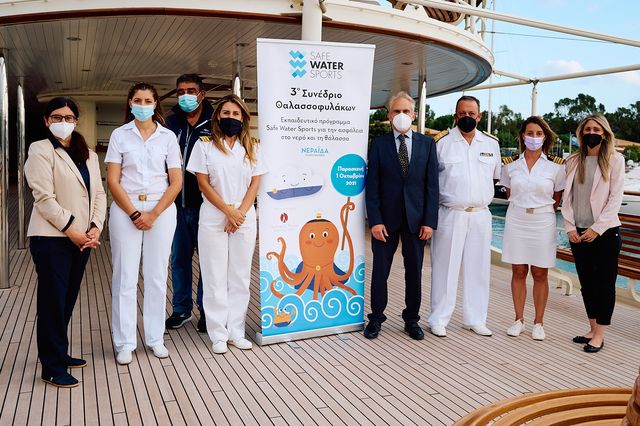 3rd Conference of the Sea Musketeers
On Friday, October 1st, the 3rd Conference of Musqueteers of Safe Water Sports was held at the Neraida Floating Museum in Floisvos Marina.
The conference was organized with the support of the John S. Latsis Public Benefit Foundation under the online presence of the Deputy Minister of Education, Mrs. Zeta Makri.
In the conference, one school of each Prefecture in Greece and one school in Cyprus, that completed the water-safety online educational program of Safe Water Sports, was honored.
The schools that were distinguished for the school period of 2020-2021 were:
-1st 12-seat experimental school Maraslio-Papadopoulos Nikos
-Kosteas Geitonas School-Epaminondas Gerou
Prefecture of North Aegean: Primary School Archilochou-Marpissa Paros & The happy summer camp-Sidiropoulos Vladimiros
Prefecture of Western Greece: 12th Primary School of Patra-Bartzakli Marianna
Prefecture of Western Macedonia:
-Primary School of Ardassa,Primary School of Olympiada in Kozani-Maggou Anastasia
-Primary School of Korisos Kastoria-Patras Ioannis
-Primary School of Kivotos Grevena-Petropoulou Despina
-Primary School of Xino Nero Amynteo-Rousidou Chrysoula
Prefecture of Epirus: Primary school of Chalkiades Arta- Koutsouki Anastasia & Maglara Eleni
Prefecture of Crete: 8th Primary school of Chania- Pagonidis Evangelos & Dovros Nikolaos
Prefecture of Central Greece: 17th Primary School of Lamia-Tassi Paraskevi
Prefecture of Central Macedonia: Primary school of Nea Skioni Halkidiki, Primary school of Fourka Kassandrinou-Primary school of Kalandra- Primary school of Paliouri Agia Paraskevi-Voutsa Eleni
Prefecture of Thessaly: Primary school of Stomio, Larissa-Petros Konstantinos
Prefecture of Peloponnese: Primary School of Velos in Korinthos-Kellari Athanasia
Prefecture of Eastern Macedonia and Thrace:
-Primary school of Avdira Xanthi-Eleni Kazantzi
-Primary school of Kato Nevrokopi-Kyrmanidou Maria-Papadopoulou Fani
Prefecture of South Aegean: Primary school of Chalikon - Sereti Garyfallia

Cyprus: 3rd Primary School of Idalio
Click here to watch the video regarding the educational content of the schools.
The goal of the ceremony was to award the schools that completed the program successfully and to transform them into representatives of the program in order to ''transmit'' their experiences and pass their knowledge to other schools of the same Prefecture giving them the capability of borrowing the educational bag for a specified period time.
At the same time, during the event, the Panhellenic Student Painting Competition was held entitled "Rules for safety at sea and the beach" in which the Coast Guard awarded the paintings of children who stood out from all over Greece.
Click here to watch the video with the drawings of the children who stood out in the Panhellenic Student Painting Competition.
Safe Water Sports Organization has educated-informed more than 40,000 students through the educational program.
Founding donour of the educational program: Stavros Niarchos Foundation