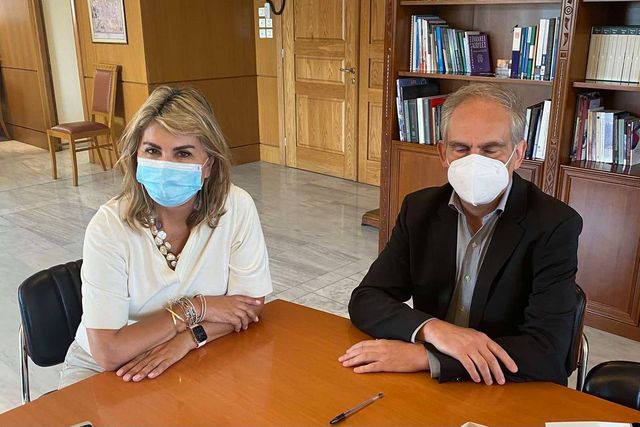 Meeting between SWS & the Deputy Minister of Education
On 9th June, 2020, the President of Safe Water Sports, Mr. Panagiotis Paschalakis met with the Deputy Minister of Education,Mrs. Zetta Makri, in order to discuss the need of educating children from an early age regarding issues related to safety at sea.
During the discussion, the President of Safe Water Sports referred to all the important actions of the Organization, as well as to its cooperation with competent bodies and Ministries that support its mission; to raise public awareness, strengthen the security feeling of citizens at sea and reduce drownings.
Mrs. Makri highlighted the importance of this initiative that has also the public acceptance and approval of the Prime Minister, who had previously attended an event of the Organization.
The Ministry of Education works closely with Safe Water Sports as the educational program of the Organization named "Safety at sea, in water sports and in swimming pool" has been included in the official curriculum of primary schools through the Skills Laboratories of the Ministry of Education in the section: Live better - Livelihood - Self-care, Safety and Prevention, Road safety.
The educational program focuses on educating and informing primary and secondary school students on issues related to water safety at beach, at sea, in the swimming pool, in water sports and other water recreational activities.
It was also agreed that similar awareness actions will take place this summer in Skiathos. (1st August).
Mrs. Makri declated that:
«The Ministry of Education stands with all its forces in order to promote prevention and reinforces the implementation of actions to raise awareness of the school environment and society on issues of safety and protection of physical and mental health.
Through the thematic entities of the Skills Workshops we enhance the experiential and exploratory learning with innovative methods and we cultivate the love and respect for the sea, the principles of self-protection and group protection, critical thinking, cooperation and responsibility.
Safe Water Sports is a valuable partner with whom we join forces for a safer future in the aquatic environment.» .