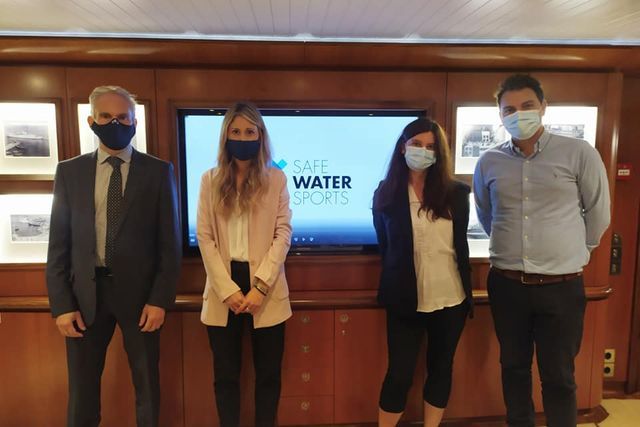 2nd Conference of the Sea Musketeers
On Friday, October 9th, the 2nd Conference of Musqueteers of Safe Water Sports was held at the Neraida Floating Museum in Floisvos Marina.
The conference was organized with the support of the John S. Latsis Public Benefit Foundation under the online presence of the Deputy Minister of Education, Mrs. Sofia Zacharaki.
In the conference, one school of each Prefecturein Greece and one school in Cyprus, that completed the water-safety online educational program of Safe Water Sports, was honored.
The schools that were distinguished for the school period of 2019-2020 were:
Prefecture of Attica: 5th Kindergarten of Chaidari, 3rd Primary School of Moschato
Prefecture of North Aegean: 3rd Primary School of Myrina Limnos
Prefecture of Western Greece: Primary School of Giannitsochori, Ilia
Prefecture of Western Macedonia: Primary School of Ardassa, Primanry School of Avestopetra in Kozani & Primary School of Olympiada in Kozani
Prefecture of Epirus: 1st Kindergarten of Parga
Prefecture of Ionian: 11th Primary School of Corfu
Prefecture of Crete: LABORATORY OF SPECIAL VOCATIONAL EDUCATION AND TRAINING- Chania
Prefecture of Central Greece: 1st & 17th Primary School of Lamia
Prefecture of Central Macedonia: Primary School of Sykeon
Prefecture of Thessaly: 5th Primary School of Karditsa
Prefecture of Peloponnese: Primary School of Velos in Korinthos
Prefecture of Eastern Macedonia and Thrace: 1st Primary School of Komotini

Prefecture of South Aegean: 5th Primary School of Rhodes

Cyprus: 3rd Primary School of Idalio
Clikck here to watch the video regarding the educational content of the schools.
The goal of the ceremony was to award the schools that completed the program successfully and to transform them into representatives of the program in order to ''transmit'' their experiences and pass their knowledge to other schools of the same Prefecture giving them the capability of borrowing the educational bag for a specified period time.
Safe Water Sports Organization has educated-informed more than 40,000 students through the educational program.
Founding donour of the educational program: Stavros Niarchos Foundation