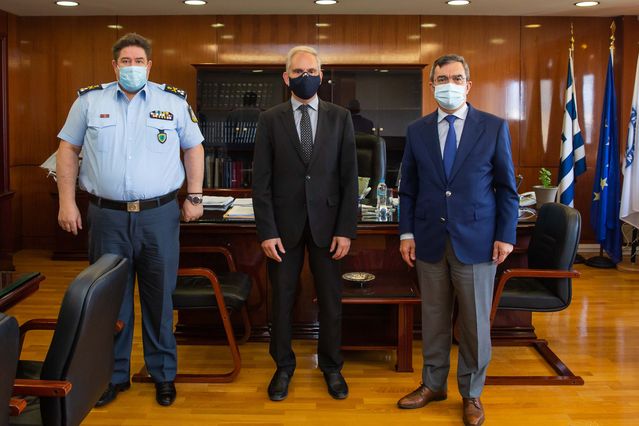 Memorandum of Cooperation between SWS & the Hellenic Police
On Thursday, September 17, 2020, a memorandum of cooperation was signed between Safe Water Sports and Hellenic Police.
This is an initiative of the Political Leadership of the Ministry of the Citizen Protection and the non-profit organization SafeWaterSports, after a series of discussion and data processing. Therefore, through a systematic cooperation that was decided between the Hellenic Police and the non-profit organization, a corresponding institutional framework was set.
A Memorandum of Cooperation was signed today, in the presence of the Deputy Minister of Civil Protection, Mr. Eleftherios Oikonomou, the Leader of EL.AS., Lieutenant Michael Karamalakis and the President of SafeWaterSports Mr. Panagiotis Paschalakis.
The purpose of this initiative is the development of joint initiatives for the protection of human life in the inland water environment of our country. SafeWaterSports has already recorded on an annual basis all the fatal accidents in inland water of the country, for the period 2017 - 2019.
The following data have been presented for the time period of 2017-2019:
62% of the victims were men and 38% were women
eleven (11) victims were Greeks (30%)
April, July and August were the months with the highest numbe of deaths
54% of the victims were aged 18-59, 14% were 60-69 and 14% were 70+,
5% of these deaths were due to alcohol

the main causes of drowning was: 18% pathological causes, 18% poor supervision of a minor victim, 13% unattended water, 11% absence of a lifeguard at a hotel pool

in terms of location: 43% of deaths occured at hotel swimming pools, 19% in lakes and 19% in rivers

the top 3 Prefectures in Greece that had the highest number of deaths were: the Prefecture of South Aegean with nine (9) deaths, the Prefecture of Peloponnese with seven (7) deaths and the Prefecture of Ionian Islands and Central Macedonia with four (4) deaths and finally
some of the leisure activities that caused death were: (1) death in rafting activity and four (4) in fishing-fishing
The Deputy Minister of Civil Protection Mr. Eleftherios Oikonomou welcomed the work of SafeWaterSports regarding the protection of human life in the aquatic environment and highlighted its improtance.