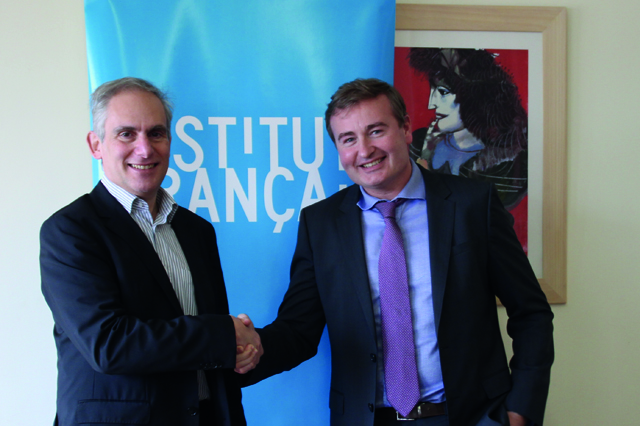 Cooperation Agreement with the French Institute
The Coop was signed on February 4, 2019, in the presence of the French Consul in Greece, Mrs. Céline Pendariès.
Safe Water Sports and the French Institute of Greece (GIE) / the Embassy of France in Greece , signed a Cooperation Agreement for the joint implementation of programs and awareness actions regarding safety issues in the water and in the sea, addressing Greeks who study French or they are French-speaking, tourists or expatriates who reside in Greece.
Safe Water Sports is a non-profit organization founded in June 2015 with the main goal of preventing drowning and accidents in activities (both sports and recreational activities) that take place in the water and the sea. The Organization develops initiatives in co-operation with the private and public sector, and at the same time it implements actions in order to raise awareness among citizens. Safe Water Sports is currently active in Greece and Cyprus. The Organization has developed a training program, approved by the Ministry of Education, which is implemented throughout the country and involves the education of students on issues related to their safety in the water (such as in the swimming pool), the sea and in water sports.
Safe Water Sports, in cooperation with the Coast Guard, has developed an electronic app that provides information about beaches, the certified and legal water sports centers, marinas, safety regulations, etc.
The Safe Water Sports electronic platform has already been posted on the website of the French Ministry of Foreign Affairs in the section "Advices for travellers" in English too.
With more than 2 million French-speaking tourists and a majority of French people, the number of accidents or deaths due to ignorance of the rules of sea sports, the principles for preventing drowning or other hazards in the sea, can be greatly reduced by enhancing the dissemination of information in the French language. The cooperation agreement between the French Institute of Greece and the Safe Water Sports Organization foresees joint work on the creation of the French version of the Safe Water Sports application in view of the tourist season 2019.
The official presentation of the French version of the mobile application will be held on May 7, 2019 at the French Institute of Greece in the framework of the Olympic meetings of the program "The generation of 2004 in Greece on the road to the Olympic Games in Paris in 2024", a program co-organized by the French Institute of Greece / The Embassy of France, the Hellenic Olympic Committee and the National Olympic Academy, whose partner is Safe Water Sports.