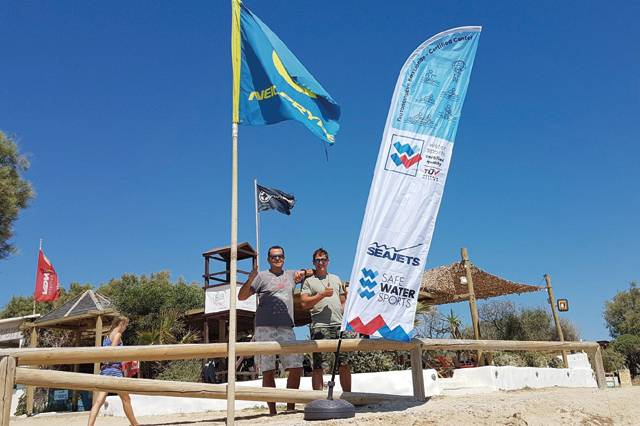 TÜV AUSTRIA HELLAS, an independent inspection and certification body, joins forces with Safe Water Sports to improve the safety measures in water sports centers. The two parties have developed a Private Certification Protocol for Licensed Water Sports Centers for the certification of relevant businesses, provided they meet specific safety standards in order to receive the "Water Sports certified quality" Label.
The Water Sports Certified Quality protocol emphasizes on functional requirements for water sports and recreation centers, focusing on safety standards, quality services and customer care.
In total, 39 water sports centers have been certified through this model. These water sports centers are located in: Costa Navarino hotel, Fours Seasons Astir Palace, Nautical Association of Vouliagmeni, Naxos, Chalkidiki, Paros, Chania, Irakleio, Rethymno, Galata Troizinia, Perivolos in Santorini, Kea and Skiathos island.
The model is about an innovative tool that offers:
Added value and operational quality mark;
High profile and recognition through certified, premium quality organization and service;
Respect for customers' safety;
Upgrade of an important sector of the tourism industry in Greece
Business and Trade Benefits for Water Sports Centers
Certification Logo is recognizable to promote water sports quality and safety
Certified centers stand out from the competition and are certified since they qualify specific criteria
The business is promoted in the tourism industry (e.g. Hotels, Resorts, Tour Operators, Travel Agents, etc.).
Certified centers are advertised through:

Safe Water Sports app that informs users of nearby certified water sports centers
Posts on social media pages of TUV AUSTRIA HELLAS and SAFE WATER SPORTS, with more than 70,000 followers in total
Press releases, interviews, speeches and presentations on TV and radio
A flag featuring the "Water Sports Certified Quality" logo in certified centers (provided upon completion of the certification)
Ads on the websites of TUV AUSTRIA HELLAS and SAFE WATER SPORTS
Operating social benefits
A flexible and practical daily mechanism to provide high-standard water sports;
Preventive measures established to avoid water sports accidents;
A mechanism to efficiently address emergencies when providing relevant services;
Continuous improvement of the quality and safety of services provided by the center, with obvious benefits for the users;
The Water Sports Certified Quality certification model will substantially help promoting Greece as a top destination for water sports.
For the first time, such an important initiative regarding the development of the first Private Protocol in Europe for water sports safety was introduced by Dr. P. Paschalakis, President of Safe Water Sports, during a press conference held on Wednesday, 22 June 2016 for the presentation of the Safe Water Sports e-platform on safety at the beach, in the sea and in water sports, under the auspices of the Central Union of Municipalities of Greece (KEDE). Among others, Dr. Paschalakis said that "the 'Water Sports Certified Quality' label awarded to water sports and recreation centers upon inspection and certification by the internationally recognized body, TÜV AUSTRIA HELLAS, is an important factor that ensures high-quality services and compliance with specific safety practices and rules to prevent water sports accidents in Greece".

Based on this cooperation, Mr. Giannis Kallias, General Manager of TÜV AUSTRIA HELLAS made the following statement: "Our common efforts aim at strengthening the feeling of safety among visitors at Greek beaches and preventing accidents, while trying to boost our tourism industry, as the operation of certified water sports centers will make Greece a role model in water sports safety".
Click here to review the certification protocol manual.
Sponsor of the Ceritifacation Protocol: