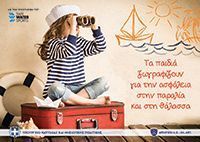 Pan-Hellenic Painting Contest
The opening of the exhibition took place on 15/06/2017 at the "HELLAS LIBERTY" floating museum at the port of Piraeus as the culmination of the specially designed children's educational program titled "Pay attention- Learn - Care".
Τhe main of the program is the prevention of accidents at sea. Hellenic Coast Guard and Safe Water Sports were the organizers of the exhibition.
Mr. Kourouplis stressed the importance of prevention, saying that "it is the greatest revolutionary intervention in human life. You can anticipate events dramatically, catastrophically, catalytically but also upgrading the quality of your life by preventing it. " He stressed the usefulness of such information initiatives, especially for young children. Mr. Kourouplis congratulated the Ministry of Port Police Directorate on the idea and implementation of the initiative through which primary and secondary school children were informed about the dangers at sea and the beach and how to avoid accidents
"On the path to this initiative, the ministry met with a non-governmental organization, Safe Water Sports, led by a parent who lived a difficult time in his life. And who he did not give up under the difficulty he experienced. But he is struggling and one has to say this publicly, so that other parents do not live such difficult moments, "said Mr. Kourouplis and congratulated all the children who participated in the contest.He stressed that through the ability of school or other social institutions to give us the opportunity to learn children from simple, swimming, to the most complex, the right use of recreational means at sea and the acquisition of the power Man needs to fight and overcome the painful situations he may encounter in his life. The Minister of Shipping noted that "we must learn to use the recreational means in the sea properly so that we can enjoy the beauty of life because life is very beautiful to destroy it with carelessness."