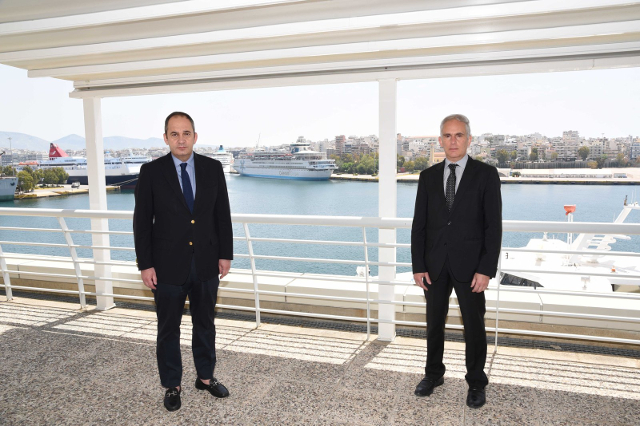 11th of May: Meeting between SWS & the Ministry of Shipping & Island Policy
May 11: National Day for the Prevention of Sea-Related Accidents and Drownings
«Safer beaches and seas for everyone»
On the occasion of today's anniversary of the National Day for the Prevention of Sea-Related Accidents and Drownings, a
meeting
was held between the Minister of Shipping and Island Policy, Mr. Giannis Plakiotakis and the President of the non-profit organization Safe Water Sports, Mr. Panagiotis Paschalakis. Both parties focused on the subject of examining the joint initiatives to enhance maritime security and reduced drownings and accidents.
During the meeting, the following topics were discussed extensively:
-The upgrade and enrichment of the Port Police Information System, that was developed and donated by Safe Water Sports and is sponsorshed by Alpha Bank. Through this upgrade, the controls will be performed by using a tablet and the officers of the Coast Guard will have online access to all the information they need, while any violations will be recorded in real time.
-The supply of more than 100 tablets, through a contest procedure that will be carried out by the Ministry of Digital Government.
-The awareness campaign regarding the safety matter of elder people. The campaing is a joint initiative among the Ministry of Shipping, the Coast Guard Directorate of the Coast Guard, the Ministry of Health and Safe Water Sports.
- Legislative changes which are promoted by the MInistry of Shipping and Island Policy with the aim of enhancing safety in the sea and in water sports.
- The establishment of the "Digital Management - Control of sea-based activities" office at the Port Police Directorate, in order to enhance a better coordination of all the above joint actions.
According to the Minister of Shipping and Island Policy, Mr. I. Plakiotakis:
«Today is a special day dedicated to the awareness and prevention of drownings and sea-related accidents. It is a very important initiative as our country lies to 15.147 kilometers of coastline and has a great number of islands.»
According to the President of Safe Water Sports, Mr. P. Paschalakis:
«The establishment of today's National Day for the Prevention of Sea-Related Accidents and Drownings is part of a series of initiatives that the Organization has jointly developed with the Ministry of Shipping and the Coast Guard - Hellenic Coast Guard. Together we can make our country a leader in safety in the sea."».