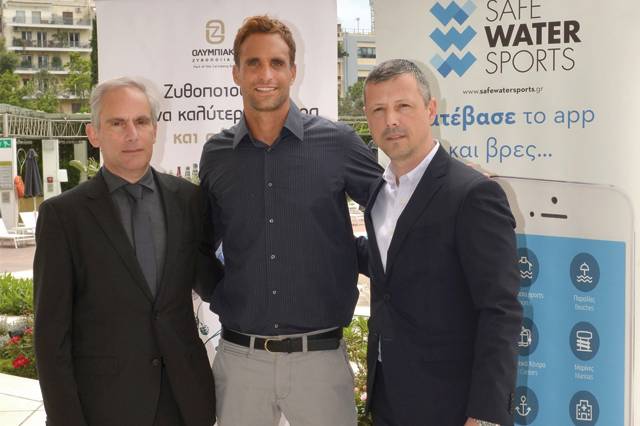 Collaboration with Olympic Brewery
''Enjoy safety'' is the key message of the new campaign of Safe Water Sports in collaboration with Olympic Brewery, starring the European champion winner in swimming, I. Drymonakos.
It is about a short film and online campaign that promotes responsible drinking and water safety.
The collaboration between Olympic Brewery and Safe Water Sports was officially launched today at a media event. Specifically, Olympic Brewery supports the activities of Safe Water Sports regarding the prevention of drownings and the reduction of sea-based accidents.
Olympic Brewery, stays loyal once again to its ideas regarding the safe consumption of drinks through this campaign by stating ''Brewing for a better today and tomorrow''.
The key message of the campaign that is "EnjoySafety" (#EnjoySafety), highlights that alcohol should not be combined while doing water sports.
According to Dr. P. Paschalakis, President of Safe Water Sports,"Greece, that has 2,500 islands and has the 11th largest coastline in the world, ranks first in Europe regarding drownings and accidents in the sea. In Europe, 50,000 people are injured each year while participating in water sports and boat activities. It is necessary to have companies like Olympic Brewery by our side, which operates responsibly. "
According to Dejan Beko, Managing Director of Olympic Brewing "Responsible consumption for all of us at Olympic Brewery is a key pillar of our values ​​and this is the purpose of serving as a company, for a better today and tomorrow. This is the reason we chose to work with Safe Water Sports''.
Ioannis Drymonakos said: "Having spent most of my life in the water, I know the kind of joy and freedom it can give you. However, I also know that it can hide risks that no one should underestimate. It is my great pleasure and honor to be part of this initiative and I would like to thank both the Organization and the Olympic Brewery for our cooperation."
The campaign will be communicated through television and social media and will be supported through the distribution of leaflets on venues of high traffic during summer time.