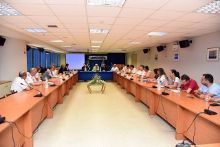 SWS cooperates with Ministry of Maritime & Coast Guard
A Memorandum of Understanding was signed between the Ministry of Maritime and Island Policy and Safe Water Sports (SWS) in order to reduce sea-based accidents in the future.
The Memorandum aims to inform and raise citizens' awareness on safety issues regarding safety in the sea and in water sports. The Memorandum of Understanding was signed by the Director of the Port Police, Chief Captain Vasileios Mammis and the President of the Organization, Panagiotis - Michael Paschalakis.
SWS intends to provide the Port Authorities a software applications for IT support in order to facilitate recording and monitoring water sports centers. The Web application consists of two sections with clearly defined user rights.