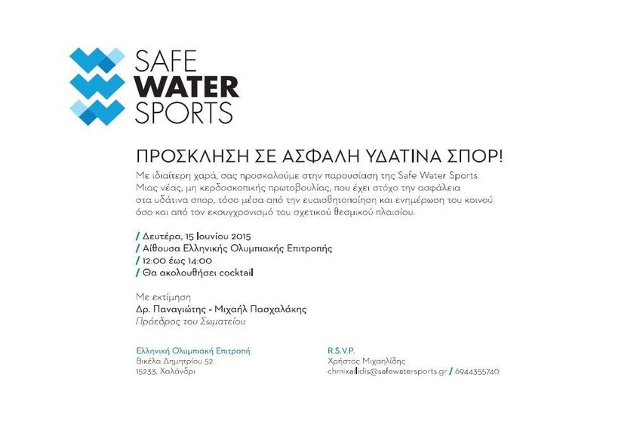 Safe Water Sports launching press conference
The launching press conference of the new established non-profit organization "Safe Water Sports" was helo on Monday, June 15, 2015 for journalists, reporters and media representatives.
On behfl of the organization key speakers of the event were Mr. Panagiotis-Michael Paschalakis (Chairman) and Mr. Apostlolis Kagelaris (Vice President), who presented the goals and vision of the initiative.
Ambassadors and speakers at the event was the gold medalist Nikos Kaklamanakis and the World Champion in water skiing, George Hatzis. In the panel also participated the famous Greek lawyer Mr. Alexander Lykourezos who referred to the need to modernize the existing legislation.
Greetings were sent to the event by:
Mr. Paraskevas, Commodore of the Hellenic Coast Guard,
Mr. Stathis Koutrouvidis, Director Officer of the Minister of Sports
Mr. Dr. Stathis Avramidis, Consultant in Water Accidents - Directorate of Public Health, Ministry of Health, Associate HCDCP Director Sports Lifeguard
Mr. C. Vernikos, Secretary of the General Association of Greek Tourist Enterprises (SETE)
Safe Water Sports initiative main goal is to inform citizens on matters related to the activities (sports and entertainment) in the water and the sea, with particular emphasis on safety and prevention of accidents.
Also through Safe Water Sports, citizens (Greeks and foreign tourists) can search for a water sports center in Greece and find information such as: the location, the person responsible for the safety, watersports offering, the coaches, as well as other general information and photos. They can also rate and comment on these companies concerning the safety and quality of the services offered.
For professionals, Safe Water Sports is a high-tech information system (Internet, social media, mobile apps) to promote businesses and water sports in Greece and abroad, and to enhance the image and credibility of our country, as one of the top tourist destinations in the water recreation industry.
Every year 50,000 Europeans (EU 27) injured by participating in water sports or activities with boats. Drowning is the second leading cause of accidental death for children from infancy to the age of 14 years with more than 5,000 deaths annually (at European level).
At the end of the event, a special video spot was presented to raise public awareness.